The Four Mile Run Stormwater Project will proceed without green infrastructure in Schenley Park that was intended to reduce runoff from Panther Hollow. PWSA officials at a recent meeting said the scope of the project will now be confined to The Run.
On November 14, about 30 people gathered at the Local 95 Union Hall in The Run, along with 63 virtual attendees on Zoom, to hear long-anticipated updates on the project.
The green infrastructure element of the plan involved engineering a dam at Panther Hollow Lake and daylighting a stream in Schenley Park. PWSA is dropping it from the project because of persistent permitting issues, technical disagreements concerning the dam, and difficult negotiations with CSX, which owns property affected by the work. Senior group manager of stormwater Tony Igwe laid out the challenges and explained that resolving them would cause further delays.
"So the decision was to kind of cut bait and look at the lower stormwater portion [in The Run], which is the core of the project," Mr. Igwe said.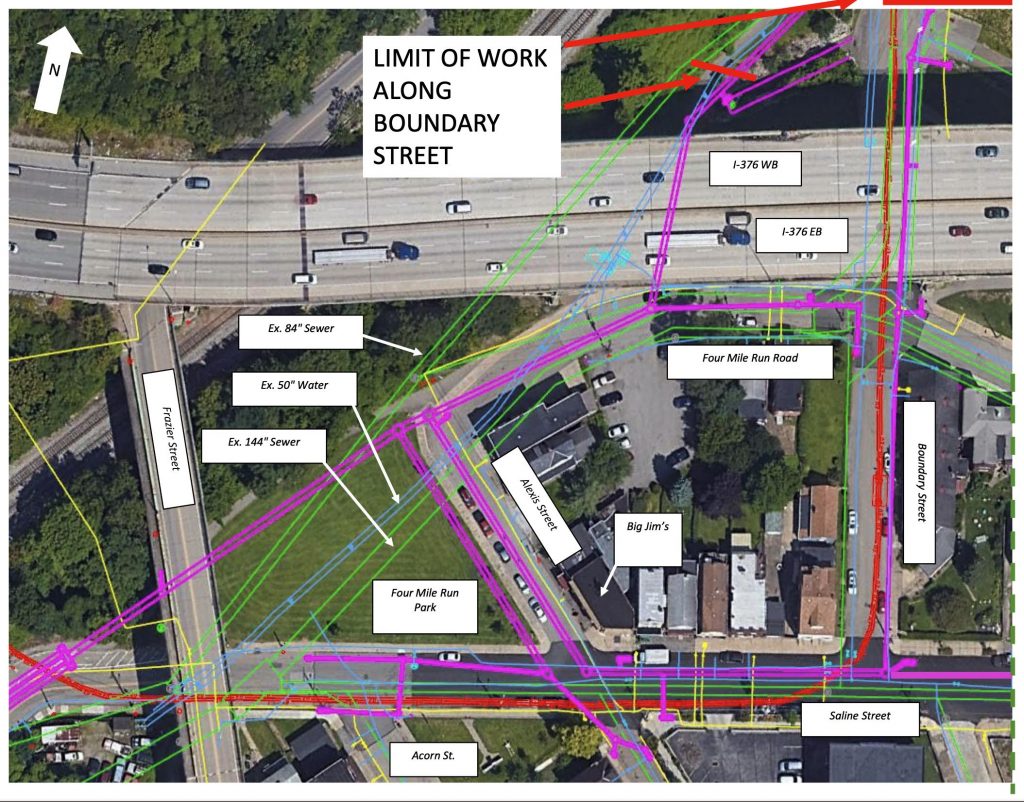 The project, first announced in 2017, was billed as a solution to severe flooding in The Run but floundered because of difficulties with permitting and murky ties to the controversial Mon-Oakland Connector (MOC) shuttle road. PWSA's last public meeting concerning the Four Mile Run Stormwater Project took place in October 2021, before Mayor Ed Gainey announced a halt to the MOC's route through Schenley Park.
Kate Meckler, PWSA's deputy director of engineering and construction, explained another reason for the change. In the past year, PWSA started implementing the Water Reliability Plan, which it calls "a series of once-in-a-generation projects that will modernize our water distribution system."
Ms. Meckler said relocating 4,200 linear feet of 50-inch water main in the park during a critical phase of the Water Reliability Plan could disrupt people's water service and that coordination proved too complex.
When work does begin, it will be complicated. Mallory Griffin, who works with construction firm JMT, answered questions about what to expect while work is happening in The Run.
"The design will not allow us to close the road," she said. "There will be one-way traffic maintained at all times, traffic flaggers, ambulances will be able to get in and out. There will be a very deep trench next to the road. So it's going to be a lot of police, a lot of work. It won't be years; we're estimating several months to get that pipeline in."
Possible help for flooded homeowners
Laura Vincent said she has been waiting for solutions throughout her nearly 20 years living in The Run. "But honestly, not very much has happened," she said. In the meantime, Ms. Vincent did extensive work on both of her properties to protect them from flooding.
"It has cost me thousands of dollars," she said. "What about my neighbors who haven't done what I've done? Do you know what it means to have shit water eight feet high in your basement?"
Mr. Igwe replied that the long delays were part of the reason PWSA decided to move ahead without the work in Schenley Park. "The core of the project is to try to remedy some of those situations," he said.
Run resident Barb Warwick, newly elected as Pittsburgh's District 5 city council representative, asked PWSA to work with her to explore the possibility of setting up a fund to help people repair flood damage as months continue to pass without construction on the stormwater project.
"It could make a huge difference for a resident," Ms. Warwick said. "And it isn't that much when you're looking at the grand scheme of things."
So far, PWSA has spent $7 million on the project. The future budget is not finalized, but they expect to retain the $42 million they had last year.
A new voice emerges on water issues
The other big news of the night came in the form of a new local organization: the Mon Water Project. Founder Anne Quinn, an environmental scientist and Greenfield resident with a background in water management, said the group is focused on conserving, restoring and advocating for the Monongahela tributaries in Greenfield, Four Mile Run and Greater Hazelwood, which Ms. Quinn christened "the Monongahela peninsula."
Ms. Quinn said these neighborhoods have equally important issues with water. She wants the Mon Water Project to join forces with existing community organizations throughout the area.
Erin Tobin, an outreach coordinator with the Pittsburgh Parks Conservancy, said her organization is looking forward to transitioning its 4MR Watershed Task Force to be under the Mon Water Project, although it will remain involved with stormwater improvement in Schenley Park. View the meeting slides and recording at https://www.pgh2o.com/projects-maintenance/search-all-projects/four-mile-run-stormwater-project.