Controversial rezoning process could set "dangerous precedent" for Pittsburgh development
On January 10, Mayor Ed Gainey requested a 30-day continuance on a controversial proposed zoning ordinance. This delayed the City Planning Commission hearing on a development called Oakland Crossings.
The Planning Commission was scheduled to host a public hearing on the matter January 11, but at Mayor Gainey's request delayed the hearing until its February 8 meeting. After the hearing and a review of the legislation, the nine-member panel will give its recommendation to City Council.
"I look forward to discussions on this development and those across Pittsburgh and how they can promote equity and affordable housing," Mayor Gainey said in a statement. "I am hopeful we will find a solution that prioritizes equitable development, aligns with the priorities raised by residents in the Oakland Plan process, and delivers on much needed affordable housing prospects for the people of Pittsburgh."
A major change to Oakland's landscape
Developer Walnut Capital seeks changes to zoning regulations that would create a new subdistrict in Central and South Oakland. The 17+-acre area stretches between Forbes Avenue (near UPMC Magee-Womens Hospital) and Boulevard of the Allies. Many of its stately brick houses have been subdivided to accommodate student renters. Notable landmarks include the former Howard Johnson's, the former Isaly's building, and a large open green space between the two. The rezoning would allow new uses for this land such as parking garages, utility-generating plants, wastewater treatment plants, university campus facilities, and educational classroom spaces.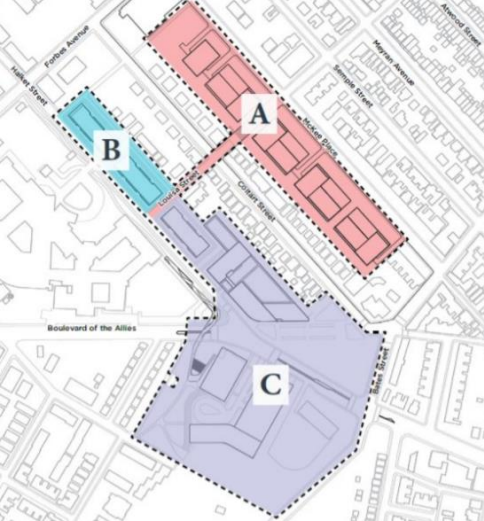 Fast-tracked bill worries Pittsburgh residents, community groups
Janice Markowitz, a board member of the Oakland Planning and Development Corporation (OPDC), welcomed the continuance. She commented, "We're confident that Mayor Gainey has made a thoughtful decision and will be inclusive and respectful of the process as we move forward."
OPDC has been a vocal opponent of Oakland Crossings, citing potential displacement of low-income residents and special considerations for the project that have subverted the normal rezoning process.
"The Department of City Planning handles public engagement and considers competing interests before the Planning Commission reviews. Then City Council would review after the Planning Commission," OPDC assistant director Andrea Boykowycz said at an October 5, 2021, City Council public hearing about Oakland Crossings. "The bill before you has skipped that process entirely and started from the wrong end of the line."
Former Mayor Bill Peduto introduced the bill to City Council on September 17. Since the zoning amendment originated in the Mayor's office, Mayor Gainey is now acting as the applicant. Ms. Boykowycz requested the October 5 meeting on behalf of OPDC and asked City Council to refrain from taking action on the bill—at least until Oakland community groups have had a chance to finalize their forthcoming Oakland Plan.
City Council heard about an hour and a half of public testimony from residents and community groups across Pittsburgh, the vast majority of whom shared Ms. Boykowycz's concerns about what she called the "dangerous precedent" Oakland Crossings' fast-tracked acceptance would set.
"I believe the handling of this request for zoning change will affect the outlook of all neighborhoods regarding community planning … Neighborhood groups have an expectation that the whole reason for completing a plan is to then have conversations with developers and others about how the market might fit into various community needs," April Clisura said at the October 5 hearing. Ms. Clisura lives in Greenfield and volunteers for community organizations in Greenfield and Hazelwood. "We community residents need to call for clarification and stand up for what constitutes public participation." Ms. Clisura also suggested creating a community planning bill of rights for Pittsburgh.
Run resident Barb Warwick, who spoke next, is also active in Greenfield and Hazelwood and shares these concerns. "From where I stand in The Run, OPDC is a powerhouse when it comes to sway in this city," she told council members. "So if you're going to brush them aside, if you're going to tell them that their neighborhood plan doesn't matter, that big-money developers can just do what they will—what hope is there for the rest of us?"
City Council approved the bill and forwarded it to the Planning Commission on October 12. On January 25, OPDC hosted a community meeting on Zoom about Oakland Crossings. More than 100 participants, including Mayor Gainey, attended. The Department of City Planning will host another meeting on February 2 at 6 p.m.