Greenfield and Hazelwood residents made progress toward safety improvements in their neighborhoods last year—but it wasn't easy. As 2022 drew to a close, yet another accident on Greenfield Avenue highlighted the need to prioritize fixing dangerous traffic conditions in the area.
Uneven sidewalk prevents a New Year's Eve tragedy
Around 7 p.m. on December 31, a westbound car jumped the curb in the 200 block of Greenfield Avenue. It balanced atop a steep hill and may have barreled toward houses in The Run, but its underside caught on the sidewalk's edge. As tow truck operators on the scene struggled to remove the vehicle, police officers alerted affected residents.
According to Pittsburgh's Department of Mobility and Infrastructure (DOMI), Greenfield Avenue qualifies for the Neighborhood Traffic Calming program, but will not receive funds for construction this year. Despite increasingly frequent and severe accidents along the 200-300 block of Greenfield Avenue, nothing will be done until at least 2026, after the anticipated replacement of Swinburne Bridge. At a July 14 meeting about that project, project manager Zachary Workman said, "It's definitely something that's on DOMI's radar for improvements in the future but it's in the long-range plan as resources become available."
When Mayor Ed Gainey held a community meeting in Greenfield last month on January 14, residents identified conditions all along Greenfield Avenue as a top concern.
DOMI promises traffic calming on Hazelwood Avenue
Newly elected District 5 City Councilperson Barb Warwick brokered a major milestone in traffic calming along Hazelwood Avenue. At a December 14 City Council meeting, DOMI director Kim Lucas committed to completing "spot improvements" on the upper part of this narrow, busy street in 2023.
In addition, Councilperson Warwick said during a January 6 phone call, "[DOMI] will do comprehensive traffic calming along the whole street long term."
DOMI's promise of larger-scale improvements shows they recognize hazards that have plagued residents and travelers along Hazelwood Avenue for decades. These include constant speeding, faded pedestrian crosswalks, and oversize trucks using the street as a shortcut.
However, DOMI only agreed to begin the work now in exchange for support of the Sylvan Avenue repaving project.
Adjustments to the Sylvan Avenue Trail project
This relatively quiet side street is slated for raised pedestrian crosswalks, repaving, and new sidewalks between Hazelwood Avenue and Home Rule Street. When DOMI introduced the project at an April 26 public meeting, attendees expressed concerns about its potential effects on Sylvan Avenue residents and its limited scope—especially considering neglected infrastructure and dangerous traffic patterns in the same area.
DOMI responded to these concerns by adding a pedestrian refuge island on Hazelwood Avenue at the Sylvan Avenue intersection, DOMI project manager Michael Panzitta said at a second public meeting on November 30. In addition, DOMI changed its plans for street markings to show bikes and cars are sharing the road. Instead of advisory bike lanes, this entire stretch of Sylvan Avenue will have a Neighborway design that may be more familiar to local drivers.
The project is part of a future pedestrian/cyclist trail along the route of the rejected Mon-Oakland Connector (MOC) shuttle road. Landslides and water runoff issues complicate work on the next leg of Sylvan Avenue, which will connect Hazelwood Avenue to another busy, dangerous street: Greenfield Avenue.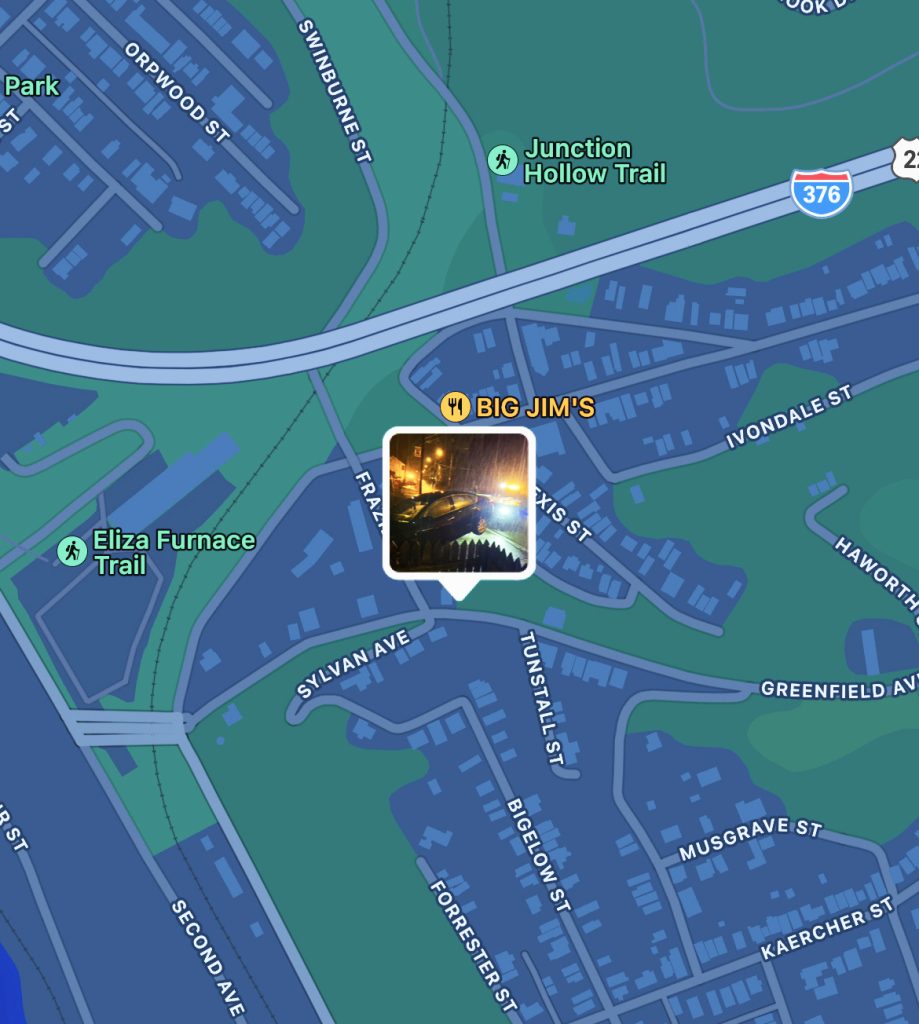 Irvine Street sidewalks completed
Thanks to state and federal funding, an existing connection between Hazelwood and Greenfield avenues got long-overdue upgrades last summer. Replacement of Irvine Street's disintegrated sidewalks wrapped up in mid-November, City of Pittsburgh press officer Emily Bourne confirmed in a January 17 email. Soon after, crews finished the signs
and signal work.
"Several minor, weather-dependent, pavement markings are outstanding," Ms. Bourne added. "These are anticipated to be completed in the spring."
A terrible loss draws attention to Johnston Avenue
After a 6-year-old Glen Hazel boy was hit and killed by a car on July 26, neighbors pointed out that they had been requesting traffic-calming measures such as speed humps for years.
Mayor Gainey held a community meeting on October 5 and later committed to safety improvements along Johnston Avenue. Crews finished some minor work, such as street markings, before winter. No date was given for speed humps and other uncompleted items. But municipal traffic engineer Mike Maloch said during the community meeting, "When weather breaks in 2023, [speed humps] will be implemented quickly."
Working toward safer streets in 2023
It should not take a tragedy as horrible as the death of a child to get simple, even temporary, traffic-calming measures—especially in the midst of major construction projects improving access to the Hazelwood Green development.
In 2019, surrounding communities created the Our Money, Our Solutions plan to identify their needs. The plan prioritized traffic calming on both Greenfield and Hazelwood avenues, as well as safer pedestrian crossings on Second Avenue.
As Hazelwood and Greenfield residents continue advocating for traffic safety measures, the Gainey administration seems to be listening. Deputy mayor Jake Pawlak told attendees at the Greenfield community meeting that Pittsburgh's 2023 budget includes increased funds for traffic calming, which is in high demand all over the city. This year should bring clarity on if and how the city will make these key improvements in 15207.